Connecting to the Air Traffic Control Server
In order to join an online air traffic control session you must connect to an air traffic control server. To do this, click the Start button in the main SquawkBox window and select Connect.... This will bring up the Connect dialog, as shown below.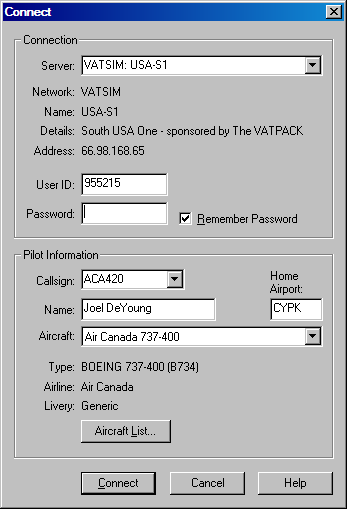 The Connect Dialog
The connect dialog is broken into two sections. The top section is for specifying your login details while the bottom section is for providing information about the plane you are flying: the type of plane and your name and callsign.
If you have any network info plug-ins installed with SquawkBox, the Server dropdown at the top of the dialog will contain a list of servers available for the network(s) you can connect to. Pick a server from the list. Alternatively you can specify the server's address manually by typing it in that field.
The User ID and Password fields should be filled in with the login information that your ATC network provider gave you. Click Remember Password if you want your password to be remembered for the next time you bring up this dialog.
In the Callsign field, type in a valid callsign. The five most recently used callsigns are stored in this dropdown for your convenience. Type your real name into the Name field.
The last item to be filled in before connecting is the Aircraft. Simply select the aircraft you want from the list. If this is your first time connecting, you will first have to add at least one aircraft to your list. Click the Aircraft List button and then click the Add button. Read Maintaining a List of Aircraft for more information about how to maintain your list of aircraft.
Click the Connect button to attempt the connection. If the connection was successful, the dialog will disappear and the network welcome message will appear in the main text window. You are now logged in to the air traffic control server.
For help with common problems with logging in, consult the relevant section of the Frequently Asked Questions list.